Your Health.
Personalized.
Personalized.
Unlock longevity, reverse chronic diseases using AI powered insights and recommendations from your DNA | GUT | Clinical | Lifestyle biomarkers.
As featured on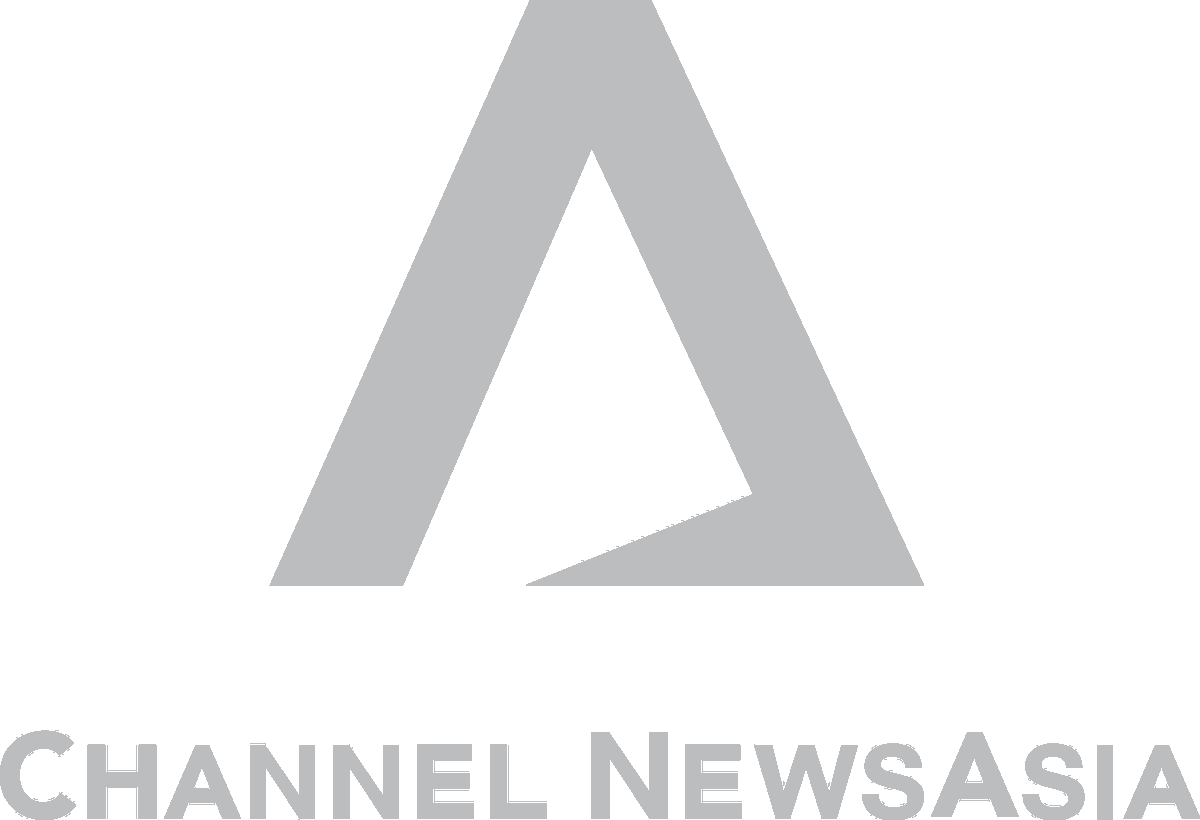 Singapore
My experience was simply superb!
They offered Gut, DNA health screening and routine blood tests I used to do every year all-in-one, allowing me to get an overall picture of my health.
Jalpan D.
Halliburton

Singapore
Resolve my skin issues.
Genixpro solutions targeted the root cause of my health problems, instead of merely treating the symptoms. Now I know what's likely causing my skin and bowel issues.
Hikmah
SMU Student

Singapore
Above and beyond anything I've seen.
Very holistic end to end value proposition. I gained significant insights and have taken tangible steps to reduce weight, improve my fitness and lifestyle.
Ashwin S.
DBS Bank

Singapore
Highly beneficial. Cost effective.
Provides actionable information for prevention of health risks. I now have a preventive framework to minimize my risk against potential diseases.
Elizabeth T.
Cancer Survivor

Singapore
I had a wonderful experience.
Their offering is very unique, economical and comprehensive compared to others providing only blood test. GenixPRO is available to all our employees.
Rishi D.
Grab

Singapore
Actionable, personalized insights.
Unlike routine medical tests which give generic results, the in-depth analysis in my report helps me accomplish my health goals. Bought for husband too.
Saloni A.
Facebook

India
Saves me time and effort.
I can tele-consult, review test results online. Improves patient throughput. Instant prescription scanning helps my staff manage patient records.
Dr. Sona A.
Endocrine

Singapore
Pain relieved. Happy with my choice.
Suffered severe stomach infection during COVID. Visited hospital many times before I chose GenixPRO. Dr. was able to use the info, changed my medication and probiotics.
Emily C.
J.P. Morgan

Singapore
Nudging me to change my habits.
DNA and Gut screening are not found in the traditional health-screening providers' set menu. Now I can get back to a more normal and hopefully optimal health.
Soo Keng T.
S.E

Singapore
Highly recommend! Very convenient.
Entire process is quite smooth and well guided. In terms of the content of the tests they run, definitely one gets MUCH MORE with them than any other standard clinic.
Rishika A.
Luxasia

Singapore
I was in awe of the many insights.
By drawing on the results of all 3 tests - Gut, Blood and DNA, I got way more information on my health over and above what I know from my doctor visits.
Jil T.
Engg. Services

Singapore
Test results were excellent.
The report was pretty good and had a better insight about my health problem areas. Now I have more details and help to guide me to improve my health.
Joanna L.
MoE Singapore

Singapore
Highly impressed with team's service.
I chose DNA, Gut health test and Glucose Monitoring (CGM) service for me and my husband. Very comprehensive medical check-ups.
Vasu M.
Finance
Only one comprehensive screening.
1000+
Personalized

Health Insights.
I am
only looking for

…
Basic health screening

Blood tests and ultrasound

Vitamins and minerals test

Allergy and hormone tests

Sexual health screening

Fertility and anti-aging tests

Men's health screening

Women's health screening

General health checkup

Regular blood test follow-up
$149++
I
need help

with…
Bloating, diarrhea, constipation

Eczema, psoriasis, skin conditions

Long unresolved gut issues

Managing weight and stress

Fatigue and mood problems

Building immunity, resilience

Enhancing my sleep quality

Optimizing my diet, nutrition

Right probiotics, supplements

Maximizing my health potential
$299
$279++
Am I...
Lacking in vitamins, minerals

Lactose or gluten intolerant

At risk of nutritional deficiency

At risk of allergy, food sensitivity

A carrier of hereditary diseases

Predisposed to weight-gain

At risk of metabolic disorders

At risk of poor sleep quality

Eating and exercising optimally

Insuring my health risks fully
$299
$259++
Personalize Nutrition and Fitness.
Based on
Your DNA and GUT

Health.
Listen to
Your Genes.

#DNAspeaks
Know genetic risk of food sensitivities

Likely vitamin and mineral deficiencies

Optimal macro and micronutrients

Response to dietary fats and carbs

Likely health risks* and much more…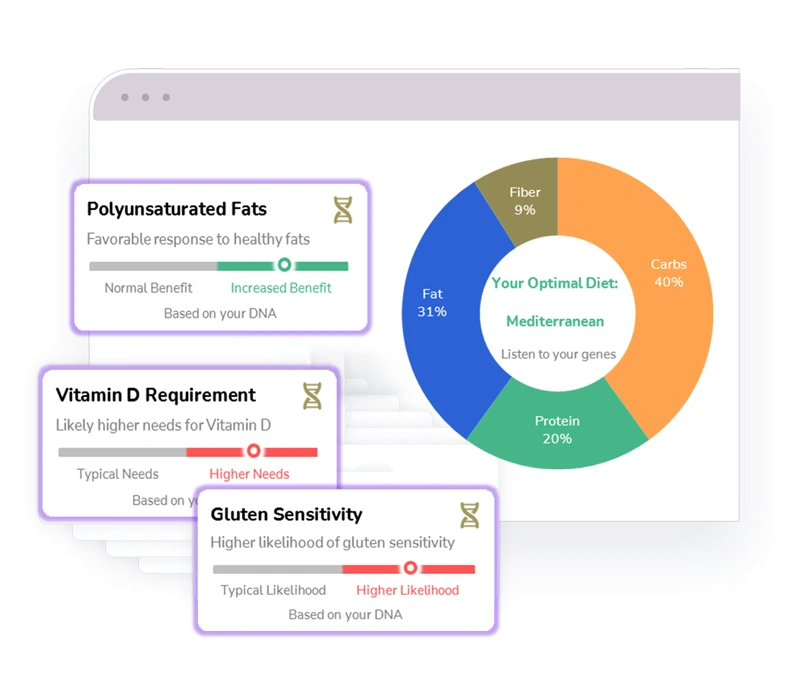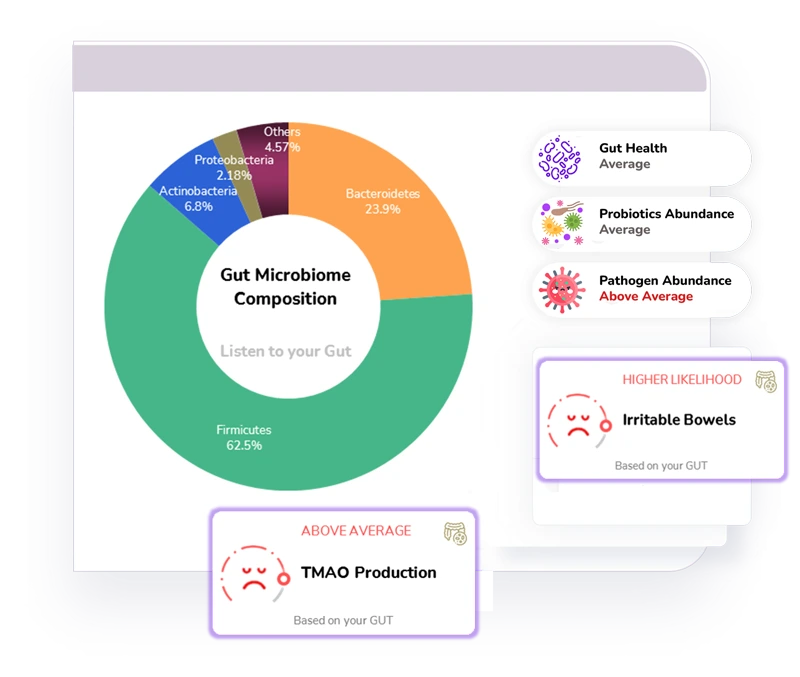 Listen to
Your Gut.

#GutTok
Know your gut microbiome composition

Bacterial species, strains, their health impact*

Abundance of probiotics and bad bacteria

Good and bad bacterial by-products

Ways to optimize lifestyle for better #GutFeel…
Learn from
DNA+Gut Screen.

#BeGenixPROUD
Know 650+ food items to eat and avoid

Endurance and strength training plans

Enhance sleep and stress management

Supplementation and probiotics needs

Ways to maximize efficiency, calorie burn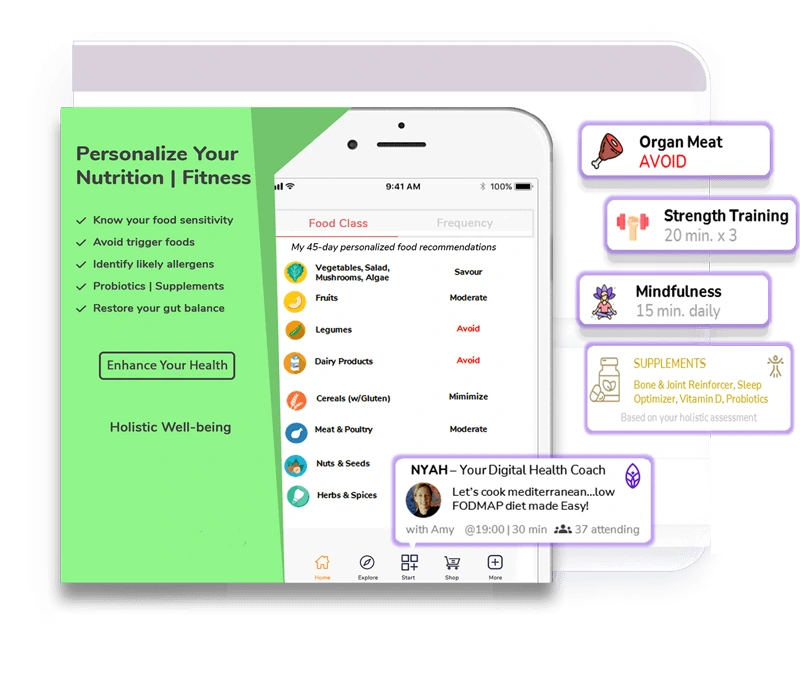 How You Can Benefit
From Taking Both Tests

Health
Your likely risk for over 200 health conditions* including 12 diseases and deficiencies that impact cardio metabolic and neurodegenerative health.

Nutrition
Assess your food, medication, vitamins, macro and micro nutrients metabolism. Identify food items to eat or avoid. Personalize your food choices.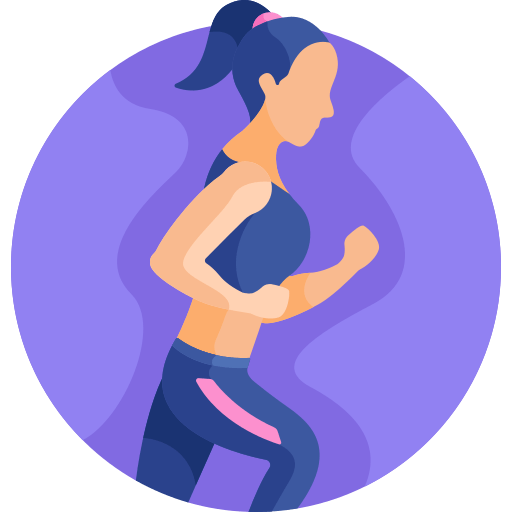 Fitness
Know your likely predisposition to obesity, weight-loss regain, injury risks and muscle characteristics. Customize your fitness program to achieve your goals and better results.

Supplementation
Determine your supplementation and probiotics needs. Use an evidence-based, scientific, and holistic approach to maximize your well-being.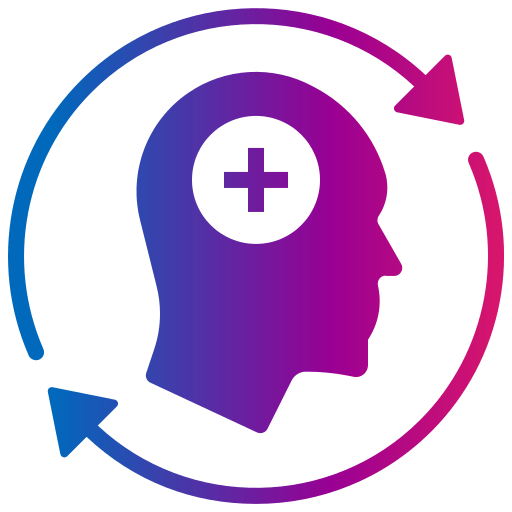 Lifestyle
Learn how DNA and Gut impact your unique traits such as sleep duration and quality, resilience, mental health, skin, hair and respiratory conditions like eczema or asthma.
What's Included
| Benefits | Comprehensive Health Screen (DNA + GUT) | GUT Health Screening | DNA Health Screening |
| --- | --- | --- | --- |
| At-home | Office Basic Assessment (35 Biomarkers) | | | |
| Comprehensive Lifestyle Assessment (85 Parameters) | | | |
| Blood Tests | Imaging | Medical Examination* | | | |
| Gut Health Analysis (96 Traits | 100 Mn.+ markers*) | | | |
| DNA Health Analysis (120 Traits | 80 Mn.+ markers*) | | | |
| AI-powered Health Risk Stratification (Diseases | Deficiencies) | | | |
| Cardio-Metabolic Health Risk Assessment | | | |
| Comprehensive Health Priority Analysis and Report | | | |
| Personalized Nutrition | Fitness | Lifestyle Recommendations* | | | |
| Gut-based Probiotics, Pathogens, Metabolites Assessment | | | |
| DNA-based Vitamins, Minerals, Antioxidants Deficiency | | | |
| Medical Review | Report Follow-up with Doctor* | | | |
| Digital Health Coaching | Wellness Tracker app* | | | |
| 12-week Digital Health Enhancement Program* | | | |
Most Advanced - At-Home Screening.
Delivers Comfort. Convenient Choice.
Our at-home DNA and GUT health screening are among the most advanced testing worldwide. We analyze over 80M genetic variants and millions of microbial species and strains to provide evidence-based, AI-powered predictive health risk stratification using Polygenic Risk Scores and Shotgun Metagenomics.
Most Advanced
Our DNA screening uses predictive AI to analyze over 80 million biomarkers. Similarly, our GUT screening tests use Metagenomics and Machine Learning to stratify disease and deficiency risks for individuals and families. Precision Health. Delivered.
Non-invasive
Our saliva kits for DNA and stool kits for GUT tests allow private, needle-free, easy, at-home sample collection for most comprehensive health, nutrition and fitness recommendations available from any health screening available today.
Actionable
We offer DNA | GUT | Blood-test | Lifestyle based health screening to assess health risks and personalize recommendation to transform health.
We are the future of health care.
Precision

Health.

Delivered

Today.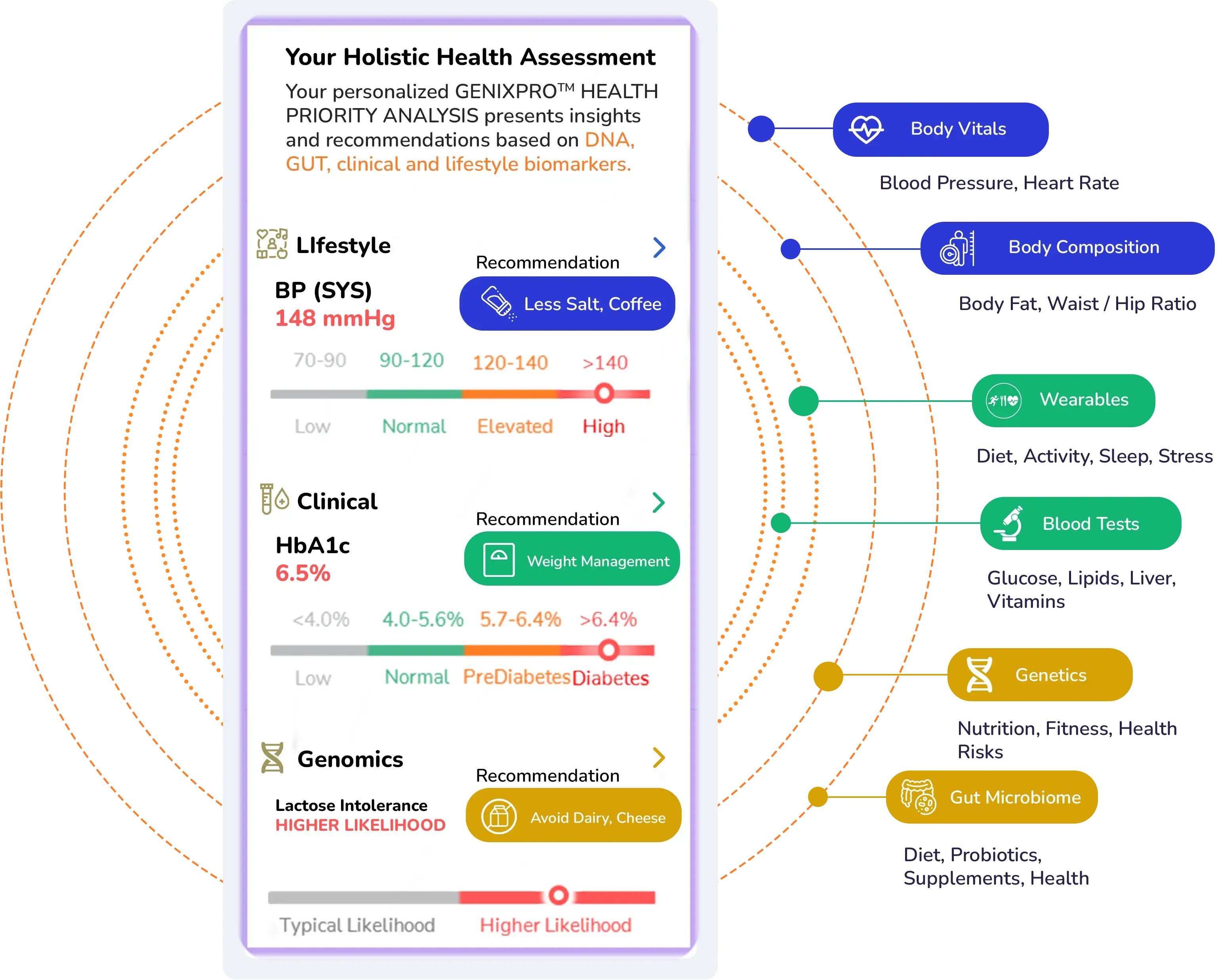 GenixPRO™ is Asia's first Precision Health Platform that integrates DNA | Gut Microbiome | Clinical | Lifestyle based health insights with Preventive Digital Health Coaching follow-up. We empower individuals and families with:
A comprehensive understanding of their holistic health blueprint;

Personalized, actionable recommendations to enhance nutrition, fitness, sleep, mental health, immunity, resilience; and

Digital health coaching follow-ups to influence positive behavior change and improve outcomes in their pursuit to maximize holistic well-being.
Trusted by
100,000+
Members, and
250+
Health professionals.
Your
Privacy.


Our

Priority.
That's the reason we:
Own and operate Asia's largest multi-ethnic HIPAA, GDPR, PDPA compliant precision health platform

Deploy best-in-class data encryption methods to all data

Offer you secure, lifetime access to all your health data

Anonymize and de-identify genomic data in our systems

Separately store genetic and account or identity information

Do not make available genomic raw data online on servers

At your request, let you download or delete your data*

Have a data protection officer to safeguard member interests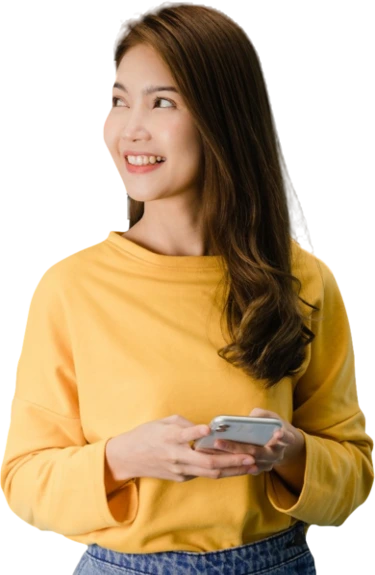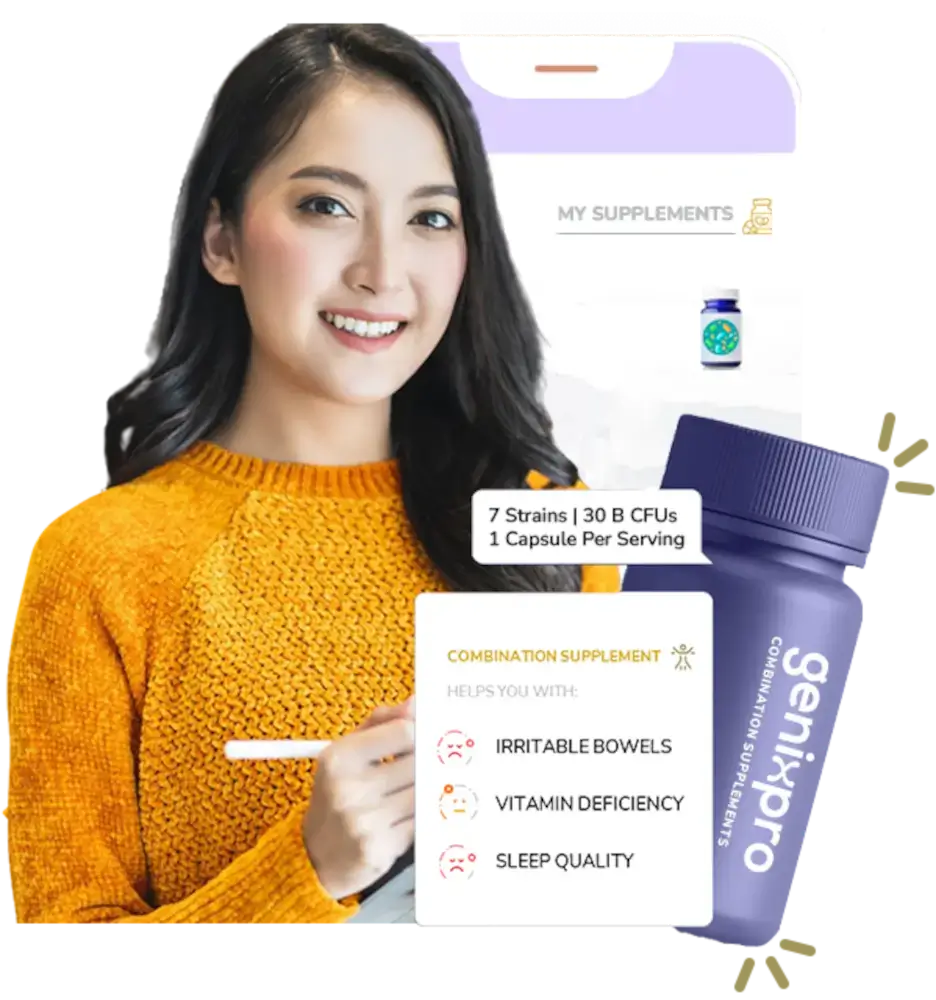 Maximize Your Well-being.
In addition to our most advanced health screenings, we offer a personalized and convenient way to supplement for holistic health. Choose the best Combination Supplements based on your DNA and Gut health screening results and needs.